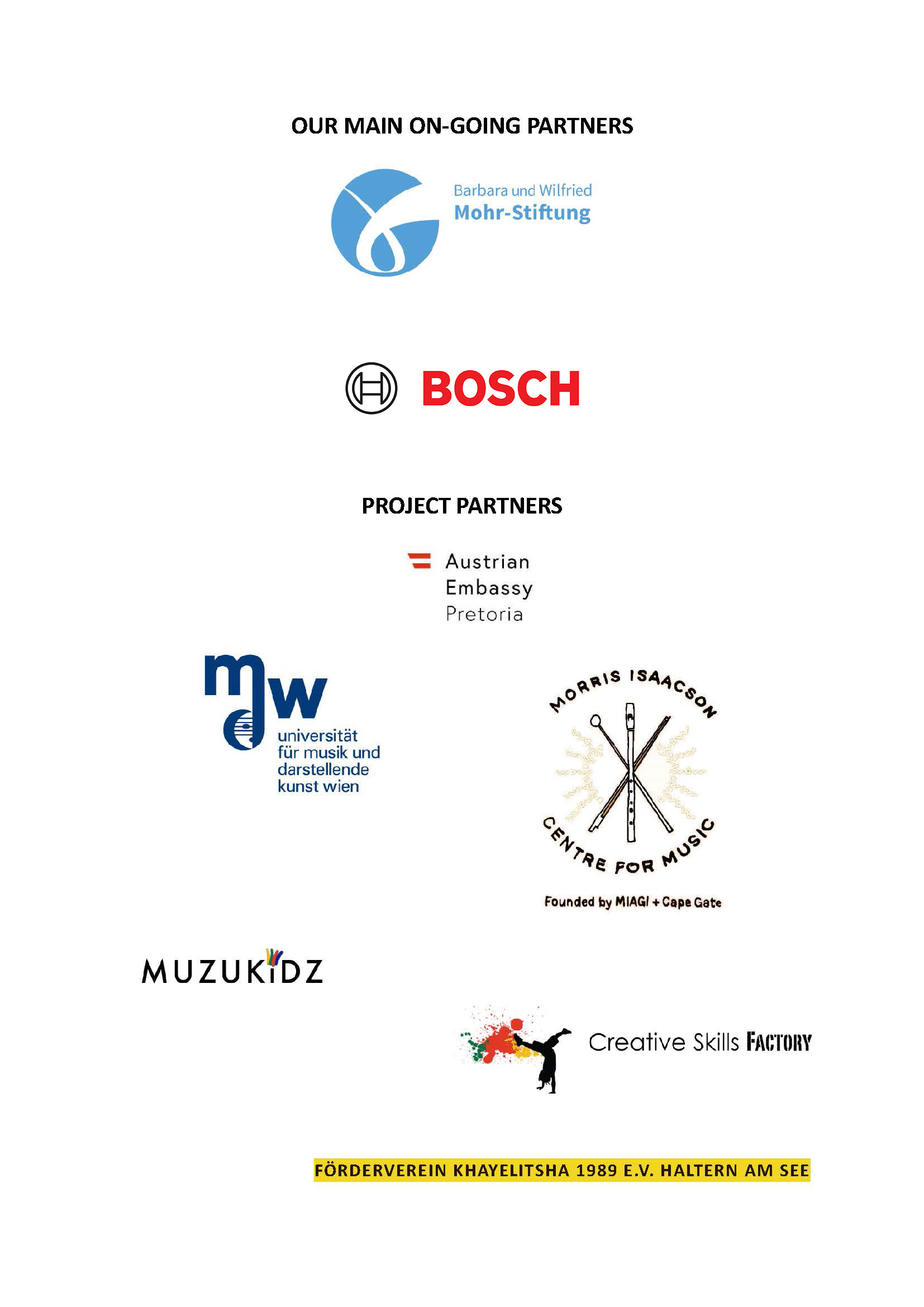 RECOGNISING OUR PARTNERS FOR OUR INTERNATIONAL NELSON MANDELA CENTENARY TOUR 2018 'Be the Legacy'
 including the HOME COMING CONCERT at Unisa, ZK Matthews Hall, 30 November 2018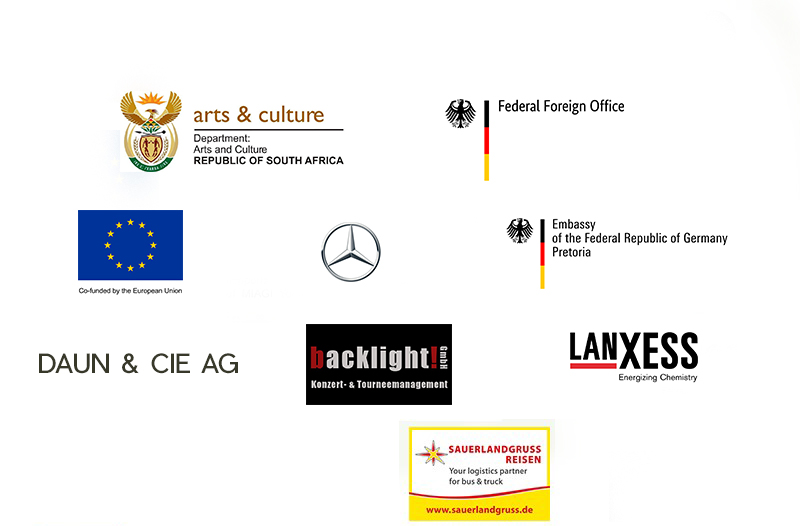 Department of Arts and Culture, South Africa support towards MIAGI Youth Orchestra tour, celebrating Nelson Mandela Centenary 2018 'Be the Legacy'
Department of Foreign Affairs of the Federal Republic of Germany  support towards MIAGI Youth Orchestra tour, celebrating Nelson Mandela Centenary 2018 'Be the Legacy'
Embassy of Germany in Pretoria support towards the Home Coming Concert November 30, 2018 at ZK Mathews Hall, Unisa, Pretoria
European Union MIAGI Orchestra tour co-funded by the European Union
Agentur Backlight stage logistics management
Suerland Reisen transport
DAUN & CIE AG support in the context of MIAGI Orchestra tour, celebrating Nelson Mandela Centenary 2018 'Be the Legacy'
Mercedes-Benz support in the context of MIAGI Orchestra tour, celebrating Nelson Mandela Centenary 2018 'Be the Legacy' 
Lanxess support in the context of MIAGI Orchestra tour, celebrating Nelson Mandela Centenary 2018 'Be the Legacy' and the Home Coming Concert, November 30, 2018 at ZK Matthews Hall, Unisa, Pretoria
Sappi support in the context of MIAGI Orchestra tour, celebrating Nelson Mandela Centenary 2018 'Be the Legacy'
Antwerp World Diamond Centre support in the context of MIAGI Orchestra tour, celebrating Nelson Mandela Centenary 2018 'Be the Legacy'
MTN support in the context of MIAGI Orchestra tour, celebrating Nelson Mandela Centenary 2018 'Be the Legacy'
Pepperl & Fuchs Pty (Ltd) support in the context of MIAGI Orchestra tour, celebrating Nelson Mandela Centenary 2018 'Be the Legacy'
MIAGI AND CAPE GATE MIAGI CENTRE FOR MUSIC, SUPPORTING PARTNERS, FUNDERS AND SPONSORS
Department of Arts and Culture support towards upgrading of music centre building and music centre teachers' salaries
National Lotteries Commission  support towards music centre teachers' salaries
National Arts Council support towards community centre concert series 'Soweto Jazz Explosion'
Embassy of the Federal Republic of Germany in Pretoria support towards installing video equipment with large screen in our music centre hall and media room for our Arco distance learning programme
Goethe Institut Johannesburg donation of grand piano to our music centre
Oppenheimer Memorial Trust  financial contribution towards running costs and our music centre
Graham & Rhona Beck Foundation support towards music centre salaries
Rupert Foundation support towards music ensemble work at the music centre
Anglo Gold support towards Arco Festival
Maponya music centre support
Bundesjugendorchester - National Youth Orchestra of Germany MIAGI Orchestra Partner 
Adams Percussion beautiful timpani set for MIAGI Orchestra
Yamaha selected instruments for our music centre 
JLT Group music centre support
Arco & Royal Birmingham Conservatoire music centre distance learning and exchange programme
Quartet of Peace music centre students' international travel costs within Arco programme
Stiftung Entre  aggranged a successful instrument collection campaign for CMCM and transported them, and other valuable instruments to CMCM
Bundesjugendorchester - German National Youth Orchestra general support 
SUPPORTING PARTNERSHIPS THROUGHOUT THE YEARS
MIAGI has support from national government, the corporate sector and the international community. Our supporters throughout the years include the National Lotteries Commission, the Department of Arts and Culture, National Arts Council,  the European Union, the Embassy of Sweden in Pretoria through the Swedish international development agency - Sida, the Embassy of Finland, the Embassy of Austria in Pretoria, the Embassy of the Federal Republic of Germany in Pretoria and the Goethe Institut. Within the corporate sector: Yellowwoods Ventures Investments Pty (Ltd). Sunday Times, Nokia, Total SA, ABSA, Lanxess, Asea Brown Boveri - ABB and Business & Arts South Africa - BASA Trusts and Foundations: the Oppenheimer Memorial Trust, the Graham and Rhona Beck Foundation and the Rupert Foundation.
Selected MIAGI Media Support: MIAGI has had extensive media support locally and internationally. Media partners among many others included Sunday Times, Mail & Guardian, The Sowetan, Hamburger Abendblatt, SABC, Deutsche Welle, NDR – North German television, national German radio, ORF – Austrian radio and television.
MIAGI features were further presented among others on CNN, Sky, BBC, Al Jazeera, Television Suisse and in South Africa on Carte Blanche and KykNet.