Social Cohesion
We have experienced that music is an ideal tool for communication and bridging of divides at a profound level.
Therefore we inspire dialogue among people of different cultures through an intense process of artistic exchange that includes commissioning new intercultural compositions.
Worldwide we introduce South African music and musicians that otherwise would never meet to audiences and to each other.
Below you find a list of some MIAGI adventures connecting people and cultures, together with a selection of Youtube links.
2022 'A Bubble is a nice Friend to have' - a MIAGI long distance collaborative video production and cultural exchange project, in partnership with the University for Music and Performing Arts Vienna - Universität für Musik und Darstellende Kunst Wien (mdw). The video production was created under the artistic direction of mdw lecturer and international top multi percussionist, David Panzl and based on the music of MIAGI Orchestra's member, the composer and multi instrumentalist Tshepo Tsotetsi. The production features MIAGI's and mdw's musicians together.
2021 MIAGI commissioned inter cultural composition - 'Missing Soest' by MIAGI Orchestra member, Musa Mdluli
2020 MIAGI commissioned inter cultural composition - 'Rainbow Dance' by MIAGI Orchestra member, Viwe Mkizwana
2019  Six MIAGI Composers, members of the MIAGI Orchestra, were invited to 'Jazz meets Classic' organised by the Young Euro Classic Festival, to perform their work together with the world-renowned Swedish trombonist and music producer Nils Landgren at the Konzerthaus in Berlin.
2018 'Rainbow Beats - Suite for 100 Years Nelson Mandela by Duncan Ward
2017  'The Simphiwe Dana Symphony Experience' presented by MIAGI in January, featured besides Dana assisted by choir, orchestra and dancers, also two internationally acclaimed African-born artists: the melodically gracious Asa (Nigeria), and the imperiously vocal Concha Buika (Equitorial Guinea). The Simphiwe Dana Symphony Experience was a realisation of a dream Dana had almost nine years ago. Through the generous support of the National Lotteries Commission, facilitated by MIAGI, Dana was finally able to see her dream come to fruition.
2016 Composition for symphony orchestra, vocal ensemble by Duncan Ward produced by MIAGI for ABB's 125th Anniversary – 20th October, 2016 in Zürich and based on traditional music from all corners of the African continent and themes by Claudio Monteverdi.
2014 'Celebration Suite' by Anders Paulsson for the 20 years of freedom in South Africa celebration tour to Europe and drawing inspiration from traditional South African songs and songs sung by Miriam Makeba.
2012 Christian Muthspiel/Tshepo Tsotetsi: Out of South Africa, Symphonic Poem on Themes by Tshepo Tsotetsi.
2011 'Gilberto Gil Connecting South' together with special guest artist Vusi Mahlasela, MIAGI Orchestra conducted by Kutlwano Masote, Xhosa Muse Madosini, and the Wits and  Fatima Choirs.  The events were featured in a documentary film by Viramundo on the life and vision  of  Brazilian  legendary  musician  and  former  minister  of culture, Gil - A Journey With Gilberto Gil - a musical odyssey through Brazil, South Africa and Australia.

2010 Steve Dyer's large work for BigBand and symphony orchestra named 'Rebirth'. 
 
2008 MIAGI was invited by the Department of Arts and Culture to produce the evening of music and  entertainment for the 118th Assembly of the Inter‐Parliamentary Union, held in April in Cape  Town. 

Arrangement  for  BigBand and symphony orchestra of Gideon Nxumalo's 'Jazz Fantasia', by Denzil Weale. This work was performed in Europe by the MIAGI Youth Orchestra as well as by our partner in Germany, Bundesjugendorchester and BuJazzo. 
'Coming Home', jazz gospel cantata by Isak Roux, sung and spoken in English, Zulu, Sesotho and Afrikaans
2007 MIAGI was invited by the Department of Arts and Culture to produce the evening of music and  entertainment for the 2nd annual trilateral IBSA Summit – India/Brazil/South Africa ‐ held in  October 2007 in Johannesburg. 

Thikundwi kha Sialala Venda Ngoma drummers and dancers performed the MIAGI commissioned  intercultural work, 'Ciacona & Tshikona' by Hans Huyssen. This work was later, in 2008 performed together with the Cape Philharmonic Orchestra. 
2005 'Arrangements' for jazz legend Miriam Makeba and symphony orchestra, by Denzil Weale. This  production marked Makeba's first performances in South Africa with a full symphony orchestra.
Arrangements of Kwela & Mozart' for the four Kwela Tebza pennywhistle virtuosos and orchestra by Isak Roux.

Cultures of the Oceans Concert with Musicians from different corners of the African Continent  and the Middle East. 
2004 UShaka  tour  to  Europe  within  the  European  Union's  and  the  South  African Government's  celebration of 10 years of democracy in South Africa. 90 South African choristers and eight South African soloists performed Mzilikazi Khumalo's epic oratorio UShaka in prestigious concert halls together with renowned orchestras such as Brucknerorchester Linz and Kammerorchester Basel.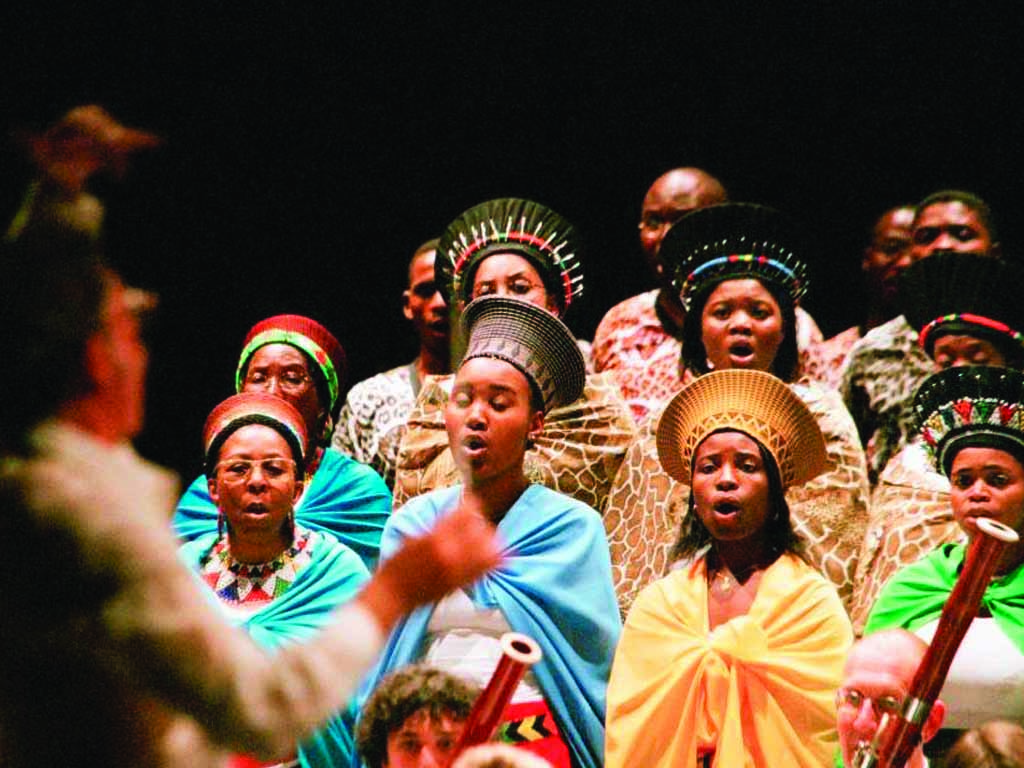 2003 'Lifecycle' for the Ngqoko Women Xhosa over‐tone singers and  classical  ensemble  of  wood  winds,  strings  and  percussion, by Jeanne Zaidel-Rudolph. 
'No  Boundaries',  arrangements by Isak Roux for Ladysmith Black Mambazo (LBM) and chamber orchestra. This production, together with the English Chamber Orchestra resulted in LBM's 'No Boundaries' CD which was nominated for a Grammy Award in  2005.  
2002 'The Songs of Madosini' for mhruhbe, isitolotolo, uhadi, voice, clarinet quintet and narrator based on a selection of songs by Xhosa muse Madosini by Madosini and Hans Huyssen.  
 'Our World', arrangements for Soweto String Quartet (SSQ), jazz trumpet, kora, mbira and chamber  orchestra. This MIAGI production resulted in the SSQs 'Our World' CD, released in 2003.
2001  English Chamber Orchestra from London collaborated with Ladysmith Black Mambazo in concert  at  the  State  Theatre  in  Pretoria performing arrangements by Michael Hankinson. 
The MIAGI commissioned, 'Menu of Poetic Dances', overture for orchestra, talking drums and open‐ended membrane drums by Meki Nzewi, was premiered by the English Chamber Orchestra.