MIAGI Youth Orchestra toured internationally in 2018
NELSON MANDELA CENTENARY 2018 'BE THE LEGACY' - MIAGI IN COLLABORATION WITH THE
NELSON MANDELA FOUNDATION
Report from our tour of Europe 06 06 2018 to 03 08 2018:
Unfathomable success for MIAGI Orchestra and our conductor composer Duncan Ward throughout our tour of Europe celebrating Nelson Mandela Centenary 2018 that took place from end of June through to 3 August – check out our FB page for all our posts from along the tour https://www.facebook.com/MIAGI.SouthAfrica/  and find some important news and reports related to it at our Events page /Events
As a result of four successful international MIAGI tours over the past eight years, our orchestra was invited back on an extensive tour in July/August 2018. The tour took the 90 members of MIAGI's orchestra to some of the most prestigious venues, concert halls and music festivals such as the brand new Elbphilharmonie in Hamburg and the Concertgebouw in Amsterdam.
Programme For Mandela's centenary in 2018, MIAGI  commissioned a 35-minute celebratory work from Duncan Ward, Rainbow Beats, Suite for 100 Years Nelson Mandela. Duncan Ward writes:

"The orchestral suite 'Rainbow Beats' was inspired by the compelling spirit, rhythm, and soul of the wildly talented musicians of MIAGI whom the composer has befriended over the last 5 years through projects together in Soweto and beyond. The harmony with which they embrace their contrasting origins and backgrounds is a microcosm of Mandela's dream and the South African 'rainbow' nation. Building from indigenous tribal chants to infectious dance grooves, this kaleidoscopic orchestral voyage unleashes the magic of the MIAGIcians in a celebration of Mandela's legacy".
The programme also included Ludwig van Beethoven's Egmont overture, Gustav Mahler (Benjamin Britten) What the Wild Flowers tell me, Leonard Bernstein's Prelude, Fugue and Riffs (2018 also marks the 100th birthday of Leonard Bernstein), as well as Igor Stravinsky's Firebird Suite.
Conductor for the tour was British conductor and composer Duncan Ward, formerly assistant to Sir Simon Rattle at the Berliner Philharmoniker. Now established as one of the most exciting and versatile artists of his generation, recent highlights include celebrated appearances with Orchestre de Paris, Bayerische Rundfunk, London Symphony Orchestra, the Swedish and Vienna Radio Orchestras, Deutsche Kammerphilharmonie Bremen and Glyndebourne Opera.
http://www.askonasholt.co.uk/artists/duncan-ward/
TOURING SCHEDULE
26 June to 5 July – rehearsals in Schlitz, Hessen, Germany 
6 July – Elbphilharmonie, Hamburg, Schleswig Holstein Musik Festival, Germany 
7 and 8 July - Community fun concerts at the Schleswig Holstein Musik Festival, Germany
11 July - European Parliament, Yehudi Menuhin Hall, Belgium
12 July – BOZAR, Henry Le Boeuf Hall, Brussels, Belgium
14 July – Opening concert, Gustaf Mahler Weeks Toblach, Italy
18 July - Morning event for CARMEN WÜRTH FORUM Künzelsau-Gaisbach
18 July – Ludwigsburger Schlossfestspiele, Germany
20 July – Carinthischer Sommer Festival, Congresshaus Villach, Austria
22 July - Festival Immling, Southern Bavaria, Germany
23 - 28 July - Orchestra In-residence at the Verbier Festival
23 July – Concert at Ecole de La Comba, Verbier Festival, Switzerland
24 to 28 July - Various ensemble and chamber music formation performances by MIAGI musicians, Verbier Festival, Switzerland
1 August - Concertgebouw, Robeco Summer Nights, Amsterdam, The Netherlands
2 August – Konzerthaus Berlin, special event for the Government of the Federal Republic of Germany
3 August – Opening concert, Young Euro Classic Festival, Konzerthaus Berlin
Concert in South Africa, Unisa ZK Matthews' Hall, 30 November 2018
27 September 2021 Freedom Festival with Bobi Wine, Ade Bantu, Zolani Mahola, MIAGI Orchestra and MICM Musicians
Find the Friedrich Naumann Foundation for Freedom's press release under the poster!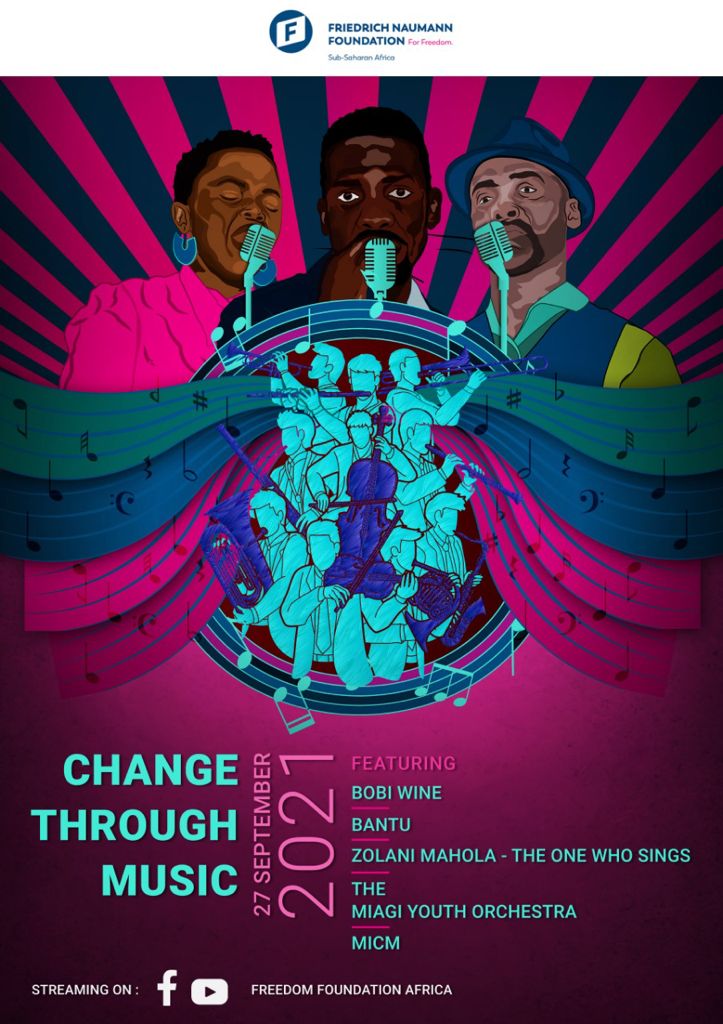 The Freedom Festival : 27 September 2021
Change Through Music!
Sub-Saharan Africa
The Friedrich Naumann Foundation for Freedom in collaboration with Nigerian musicians BANTU, Ugandan musician and opposition leader Bobi Wine, South African musician Zolani Mahola (The One Who Sings) and the MIAGI Youth Orchestra will be broadcasting the virtual Freedom Festival titled "Change through Music" on 27 September 2021 at 13:00 CAT.
Through their music, BANTU and Bobi Wine call for tolerance, the right to freedom of speech and freedom of expression. The musicians openly speak out against corruption and injustice in their countries and in the region. Their questioning and critical response to what they consider human rights violations have led to arrests, indictments, torture and strict surveillance especially that of Bobi Wine.
In the effort of promoting freedom of expression and freedom of speech, FNF Africa and the musicians will be recording and releasing the Freedom Festival concert, which will feature three solo musical performance from the three musicians and one collaboration performance. The musicians will be backed up by the MIAGI Youth Orchestra. The musical performance will feature songs that address issues of human rights violations, corruption, xenophobia and autocratic leadership in Africa. The recording will take place at the Morris Isaacson Centre for Music, MICM, located on the premises of the Morris Isaacson School. Nigerian musicians BANTU will featuring virtually whilst Bobi Wine and Zolani Mahola will be recording from the Morris Isaacson Centre for Music in Soweto. A preview release is expected on 15 September, which is International Day of Democracy.
FNF Africa and Bobi Wine released a successful virtual human rights and political participation awareness concert last year. It is the success of the concert from 2020 has encouraged the Foundation to explore working with the musicians whom we believe will give a greater voice to the messages we are promoting through this event. #CHANGETHROUGHMUSIC #FNFREEDOMFESTIVAL
Date: 27 September 2021
Time: 13:00 - 14:00 CAT
Location: Facebook and YouTube [Freedom Foundation Africa]
MIAGI Orchestra members performing 'Rainbow Dance' by composer Viwe Mkizwana, double bass player and member of MIAGI Orchestra
The recording was made on November 12, 2021 at the Market Theatre in Johannesburg, in partnership with the Friedrich Naumann Foundation for Freedom
With this video MIAGI says thank you to Bosch Africa for their on-going support!
MIAGI Orchestra performed at ZK Matthews Hall in Pretoria on 30 November 2018.
The event was filmed for a documentary on MIAGI / MIAGI Orchestra that was released internationally by The Nobel Prize and National Geographic on 22 May 2020.
See an excerpt from the concert here. MIAGI Orchestra performing Beethoven's Egmont Overture, Conductor: Daniel Spaw.
Our Youth  
Orchestra/Touring/Activities
Over the past 18 years MIAGI developed its brand around the uniting of music genres; Western classical, jazz and ancient indigenous/traditional (African classical) and the many vibrant urban South African music styles that developed from the1940/50s until today.
In this process, we developed our very fine youth orchestra, MIAGI Youth Orchestra playing music representing all the above mentioned genres with an eclectic result. The orchestra has toured internationally and has made a name for itself.
Throughout the years, we have offered our young members a vast range of opportunities; education, mentoring, horizon broadening international collaborations and tours, once in a life time opportunities and career promoting projects.
Link https://p.dw.com/p/33LKv 2018 presentation video about our orchestra made by Deutsche Welle TV channel in Germany, featuring violinist Donné de Kock and cellist Neo Phambuka 
Video 2015 presentation video by Blink Pictures