With this video, 'Rainbow Dance' by Viwe Mkizwana, recorded in partnership with the Friedrich Naumann Foundation for Freedom at the Market Theatre on November 12, 2020 we want to thank Bosch Africa for their on-going support!
Tsepo Pooe at the Nobel Week Dialogue, 9 December 2020
Watch the The Nobel Prize's video from the event: "Tsepo Pooe,  talks about the importance and influence of South Africa's MIAGI Orchestra with Laura Sprechmann, CEO of Nobel Prize Outreach"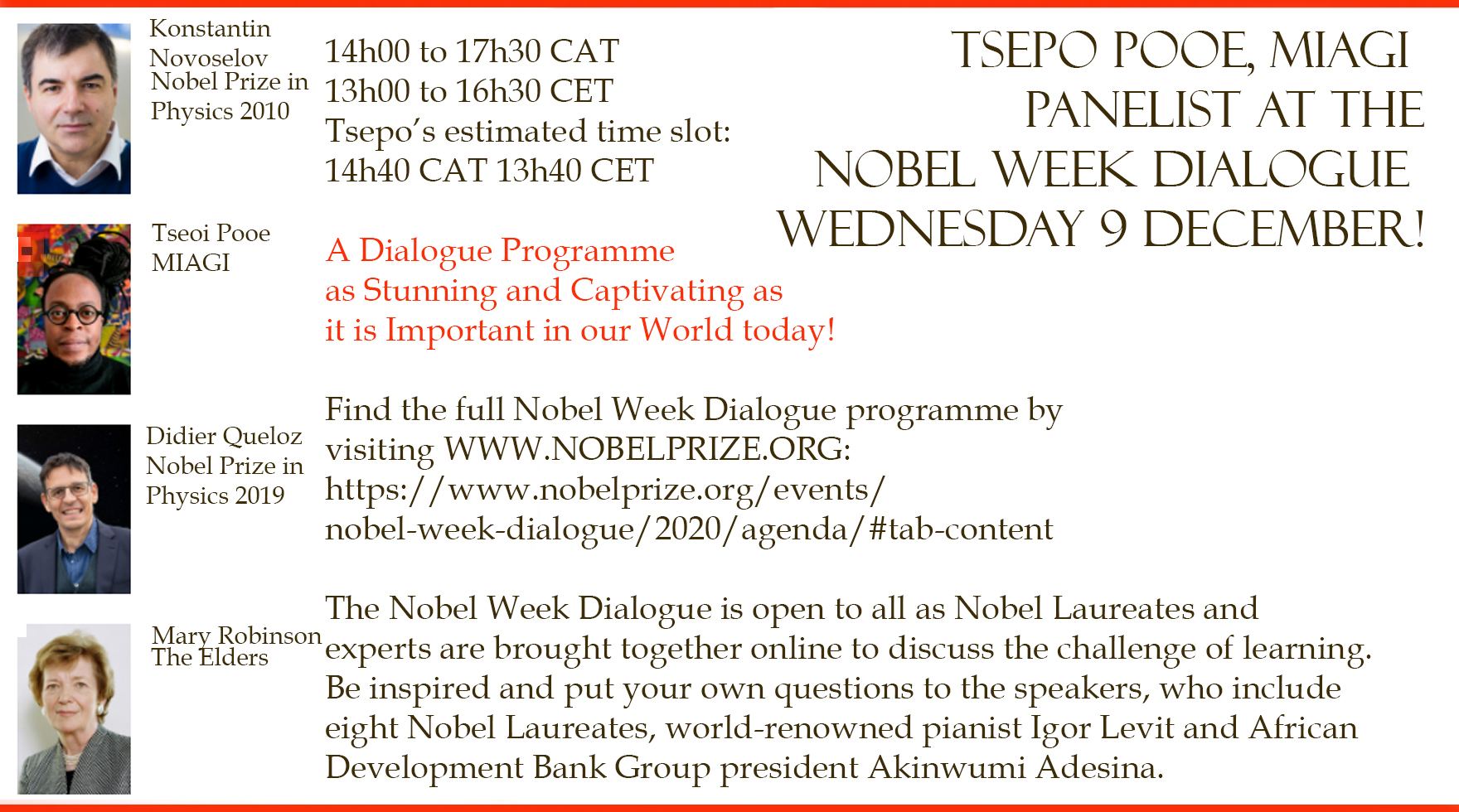 "Finishing an unfinished Symphony"
On Thursday 12 November MIAGI and the Friedrich Naumann Foundation presented a livestreamed roundtable event at the Market Theatre.
You can watch a recording from the event, and listed to our brilliant, distinctive panelists and our MIAGI musicians' performing on MIAGI's Facebook page - read more about the panelists on our Events page - https://www.miagi.co.za/Events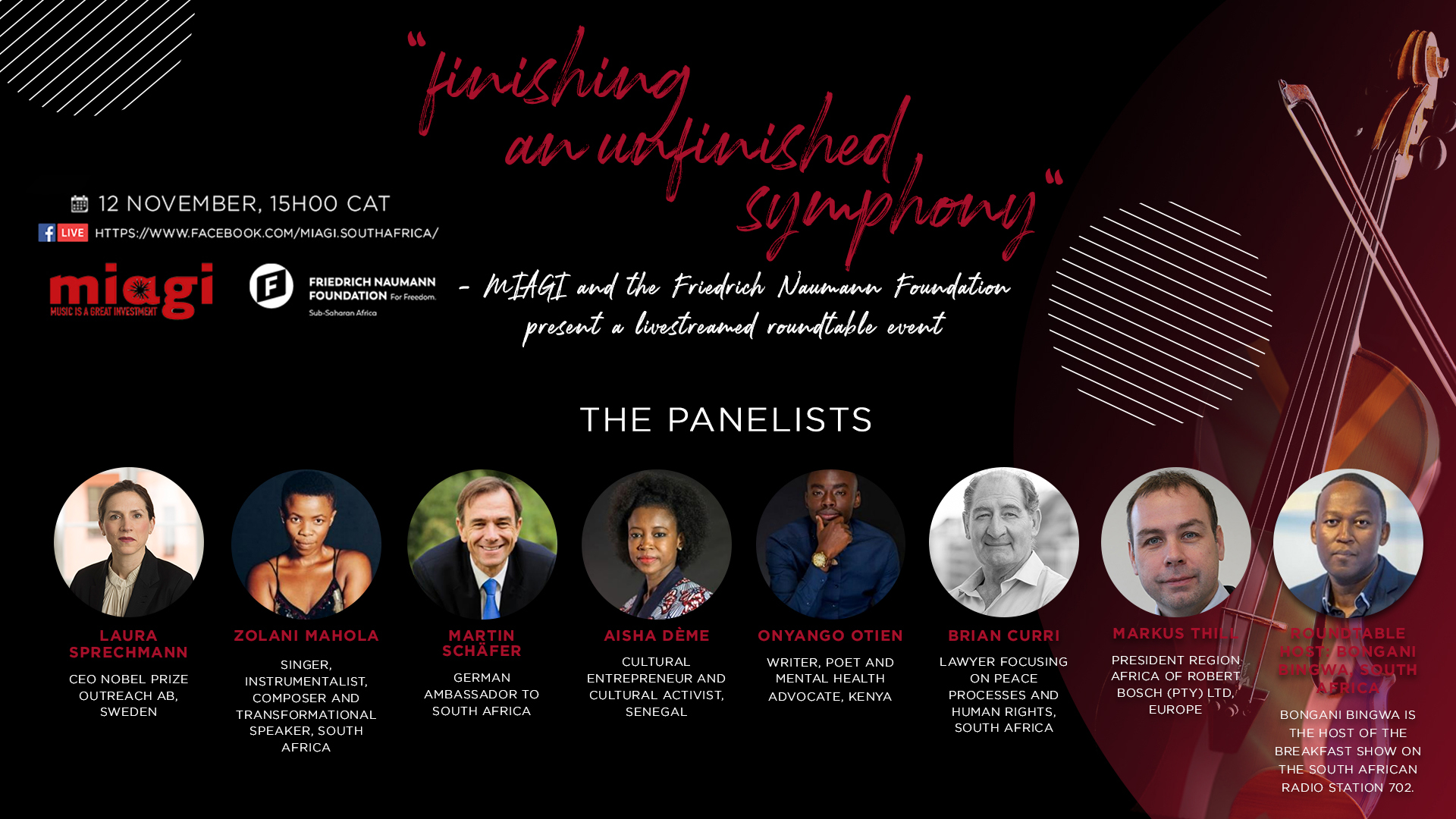 'An Unfinished Symphony' presented by The Nobel Prize and National Geographic
Documentary film about MIAGI Orchestra in the context of the legacy of Nelson Mandela directed by Academy Award Winner Orlando Von Einsiedel 
The World Premiere took place on Friday 22 May 2020
MIAGI Building an Arts Complex for Khayelitsha!
The MIAGI Cultural Investment Centre Khayelitsha, M'CICK' is in its advanced planning stage. The land for this undertaking, 7 068 sqare meters, was allocated to us by the City of Cape Town.
Khayelitsha is one of the fastest growing townships and poverty stricken areas in Africa. 
IF YOU WISH TO JOIN US AND SUPPORT OUR WORK THROUGH A DONATION, YOU CAN DO IT SAFELY AND SECURELY BY FOLLOWING THIS LINK TO OUR CAMPAIGN AT: GIVEN GAIN
WITH THIS BEAUTIFUL VIDEO WE WANT TO THANK ALL OUR FRIENDS AND SUPPORTERS!
MIAGI Orchestra celebrated Mandela Centenary 2018 to 2019!
MIAGI Orchestra performed at ZK Matthews Hall in Pretoria on 30 November 2018. The event was filmed for the documentary on MIAGI / MIAGI Orchestra that was released globally on 22 May 2020.
Excerpt from the concert, MIAGI Orchestra performing Beethoven's Egmont Overture, Conductor: Daniel Spaw.
MIAGI Reporting from our tour of Europe - 6 July to 3 August 2018:
Unfathomable success for MIAGI Orchestra and our coductor composer Duncan Ward on Friday 6th July at the Elbphilharmonie, lovingly called Elphi, within the Schleswig-Holstein Musik Festival – check out our FB page for regular updates around the tour https://www.facebook.com/MIAGI.SouthAfrica/ if you do not believe us J and make sure not to miss the opportunity to experience our next major appearance  in Brussels at BOZAR, Henry le Boeuf Hall, Thursday 12th July @ 20h00  – find more information about our BOZAR event here https://www.miagi.eu/index.php/en/
The motto for the celebrations, 'Be the Legacy' was coined by MIAGI's South African partner in the context of the celebrations, the Nelson Mandela Foundation. MIAGI Youth Orchestra is a realisation of Nelson Mandela's dream, with young musicians of every colour and background playing together with a warmth of spirit that is infectious and inspiring. Within spaces such as MIAGI Youth Orchestra, social cohesion happens effortlessly. MIAGI firmly believes that its young musicians 'Are the Legacy'.
Contact us, contact information  /Write, call and come visit us!
Read more about our international touring celebrating Nelson Mandela Centenary - 'Be the Legacy'  /MIAGI Youth Orchestra touring internationally!