MIAGI Media Release 14 05 2020
AN UNFINISHED SYMPHONY
National Geographic Documentary Films, in association with the Nobel Peace Prize, to stream AN UNFINISHED SYMPHONY, a film about MIAGI 'Music is a great Investment' and its contribution to a cohesive society in South Africa.
AN UNFINISHED SYMPHONY is part of a series of short documentaries directed by acclaimed Oscar-winning director Orlando von Einsiedel, made in partnership with the Nobel Prize, which celebrate the ongoing legacy of selected Nobel Peace Prize laureates. In the context of this film, Nobel Peace Prize laureate Nelson Mandela.
 c
AN UNFINISHED SYMPHONY will be released globally on the National Geographic YouTube channel on FRIDAY 22 MAY 2020 (NB change of date from the earlier announced 20 May): 
FILM SYNOPSIS
The film follows two MIAGI Orchestra musicians while preparing for a major performance: Tsepo Pooe, who grew up in Soweto Township; and Lize Schaap, who grew up in Pretoria. Through their eyes, and differing experiences of growing up in South Africa, we understand the enormous impact that ethnic segregation continues to have, but also see hope for a brighter future for the country.
About MIAGI
For soon 20 years, the Non-Profit-Organisation MIAGI, Music is a great Investment has offered a wide range of educational opportunities equipping young South Africans to advance their life prospects. Similarly the internationally celebrated MIAGI Orchestra unites young talents through excellence, creative cooperation and innovation across ethnic and socail boraders. An education and communityc centre, today known as the Morris Isaacson Centre for Music was established by MIAGI in collaboration with the Kaplan Kuschlick Foundation. A second MIAGI founded educational and cultural centre in a historically deprived settlement,'MIAGI Cultural Investment Centre Khayelitsha', is in an advanced planning stage.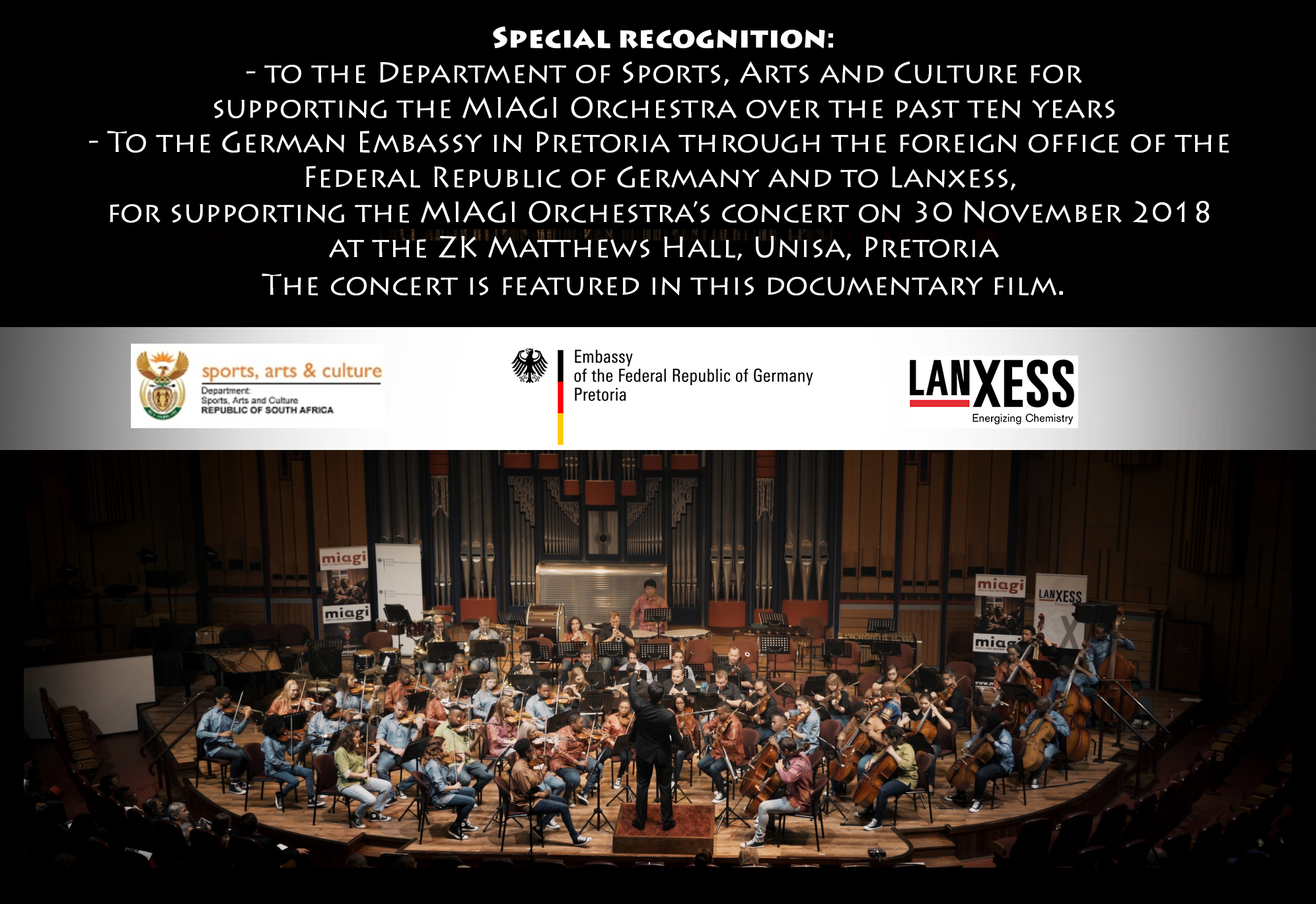 About Orlando Von Einsiedel
Orlando von Einsiedel is the director of the Academy Award-winning short documentary, THE WHITE HELMETS, which follows the lives of a group of heroic Syrian civilian rescue workers in 2016. The film was released as a Netflix Original and was also nominated for two EMMYs, including one for Exceptional Merit in Documentary Filmmaking.
His debut feature documentary VIRUNGA charted the story of a group of courageous park rangers risking their lives to build a better future in the Democratic Republic of Congo. BAFTA and Academy Award nominated, the documentary won over 50 international awards including an EMMY, a Grierson and a duPont-Columbia Award for outstanding journalism. The film was also recognised for its role in protecting the Virunga National Park winning a Peabody, a Television Academy Honor and the prestigious 2015 Doc Impact Award. He is the founder of double Oscar-winning production company, Grain Media, based in the UK.
About National Geographic Documentary Films
For more information visit 
natgeotv.com or nationalgeographic.com.
About The Nobel Prize
Since 1901, the Nobel Prize has been honoring men, women and organisations from around the world for outstanding achievements in physics, chemistry, physiology or medicine, literature and for work in peace. The world's most important prize rewards achievements that contributed to the greatest benefit to humankind in line with the will of Alfred Nobel.
Contact:
Ingrid Hedlund, MIAGI Creative Director ingrid@miagi.co.za +46 70 780 2134
Robert Brooks, MIAGI Executive Director robert@miagi.co.za +27 82 332 3398