Management / Governance / Sustainability
MIAGI
Music is a great Investment (acronym: MIAGI)
A Section 21 Company - not for gain - Reg. No. 2001/015788/08
Management Team
Robert Brooks CEO and MIAGI Co-founder
Ingrid Hedlund Creative Manager, Deputy CEO and MIAGI Co-founder
Sisa Chumi Administrative Management
Munashe Muchina Project Management
Kabelo Kgoebane Financial Management
Mikael Strandänger Director - Music is a great Investment Sweden
Auditors Deco Chartered Accountants
Picture below: members of our management team together with some very special individuals that MIAGI has had the privilege of knowing and collaborating with in the course of the years: Ahmed Kathrada, one of Nelson Mandela's closest colleagues, fellow Rivonia Trialist and Robben Island prisoner who gave his entire life to the liberation struggle in our country, Alison Balsom, world renowned trumpet virtuoso and Maxim Vengerov, MIAGI Patron, world renowned violinist, conductor and Unicef Goodwill Ambassador.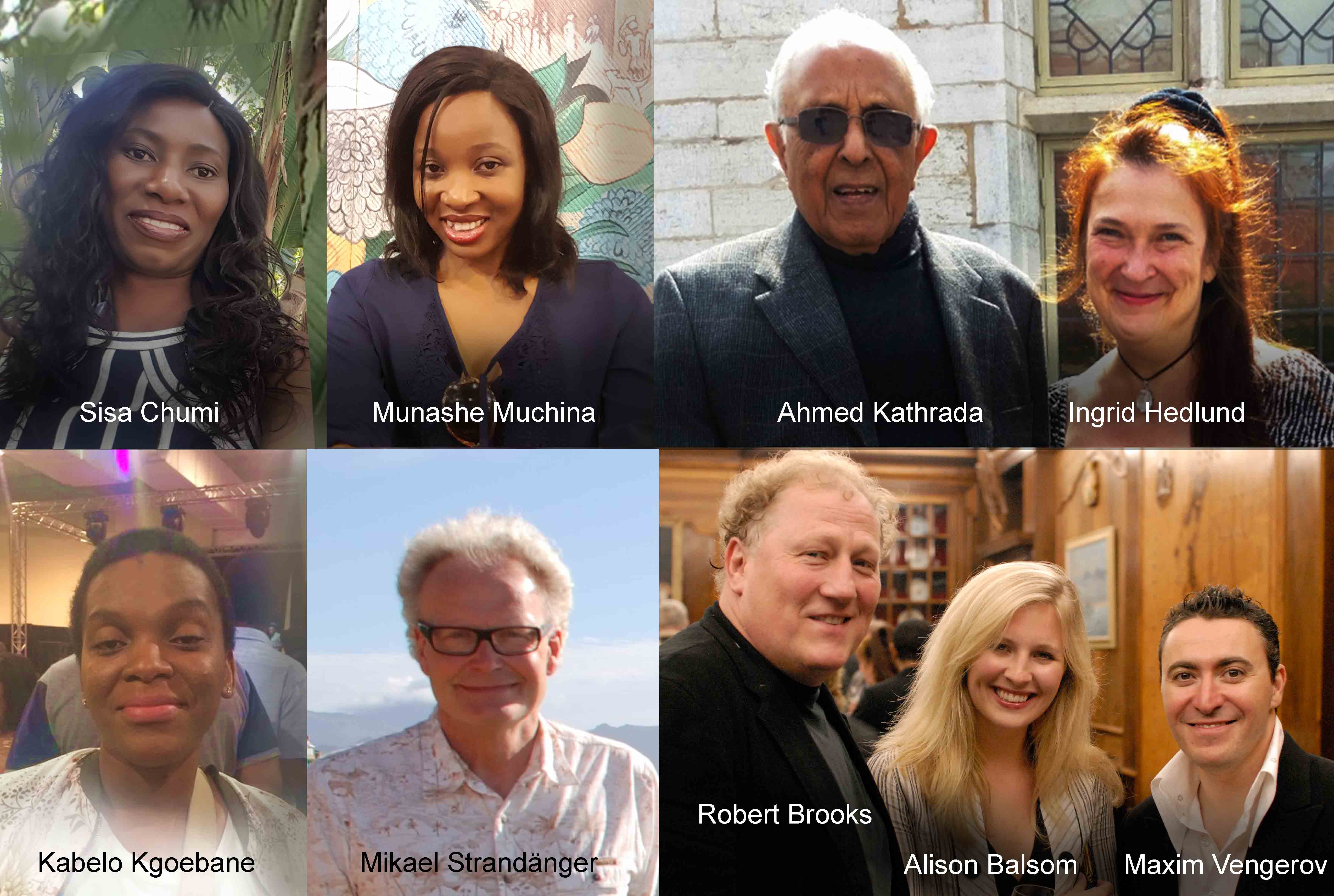 Board
Robert Brooks
Klaus Döring
Ingrid Hedlund
Matthew Krouse
Maria Kurian
Rhulani Madale
Mikael Strandänger
Our Patrons
President Martti Ahtisaari, peace-facilitator, recipient of the Nobel Peace Prize in 2008 and former President of Finland.
Maxim Vengerov, internationally renowned violinist and UNICEF Goodwill Ambassador.

In memoriam José Antonio Abreu - May 7, 1939 to March 24, 2018
About our Patron José Antonio Abreu, UNESCO Ambassador for Music and Peace and creator of the national system of children's' and youth orchestras and choirs in Venezuela (El Sistema):
"Poverty generates anonymity…an orchestra means joy, motivation, teamwork, success. Music creates happiness and hope in a community." José Antonio Abreu
In 2003, in Vienna, MIAGI first met our Patron, the founder of El Sistema in Venezuela, José Antonio Abreu, and were profoundly inspired by his vision. We were later invited to Caracas on several occasions, to among others the '30 years El Sistema' celebrations, during which on 20 February 2006, Orquesta Nacional Juvenil de Venezuela Simon Bolivar conducted by Claudio Abbado performed Hector Berlioz' Symphonie Fantastique.
An unforgettable occasion and concert with many exceptionally inspiring meetings, not the least with overwhelmingly charismatic, and certainly also enigmatic, Maestro Abreu.
As years passed, politics at many levels and of various nature muddled up the picture, and everything became increasingly difficult also for Venezuela and El Sistema.
We will however never forget the very first impressions of our encounters and conversations with Maestro Abreu, and always cherish them as if they happened yesterday!
It would be incorrect not to end with touching the more recent tragic developments, which form part of the controversy around El Sistema in the world today:
By npr music/quote: "El Sistema, while separate from the Venezuelan government, has relied on state funding and has not been immune to the country's ongoing political upheaval. In 2017, Abreu protégé Gustavo Dudamel, in an open letter, spoke out against the hard line positions of Nicolás Maduro, saying "enough is enough." His letter came one day after reports were published in Venezuela that a young El Sistema violinist named Armando Cañizales was killed in a Caracas street protest. Later, officials cancelled Dudamel's 2017 tour with the Venezuelan Youth Orchestra."