Thank you Bosch Africa!
With this video, 'Rainbow Dance' by Viwe Mkizwana, recorded in partnership with the Friedrich Naumann Foundation for Freedom at the Market Theatre on November 12, 2020 we want to thank Bosch Africa for their on-going support
Tsepo Pooe at the Nobel Week Dialogue, 9 December 2020
Watch the The Nobel Prize's video from the event: "Tsepo Pooe,  talks about the importance and influence of South Africa's MIAGI Orchestra with Laura Sprechmann, CEO of Nobel Prize Outreach"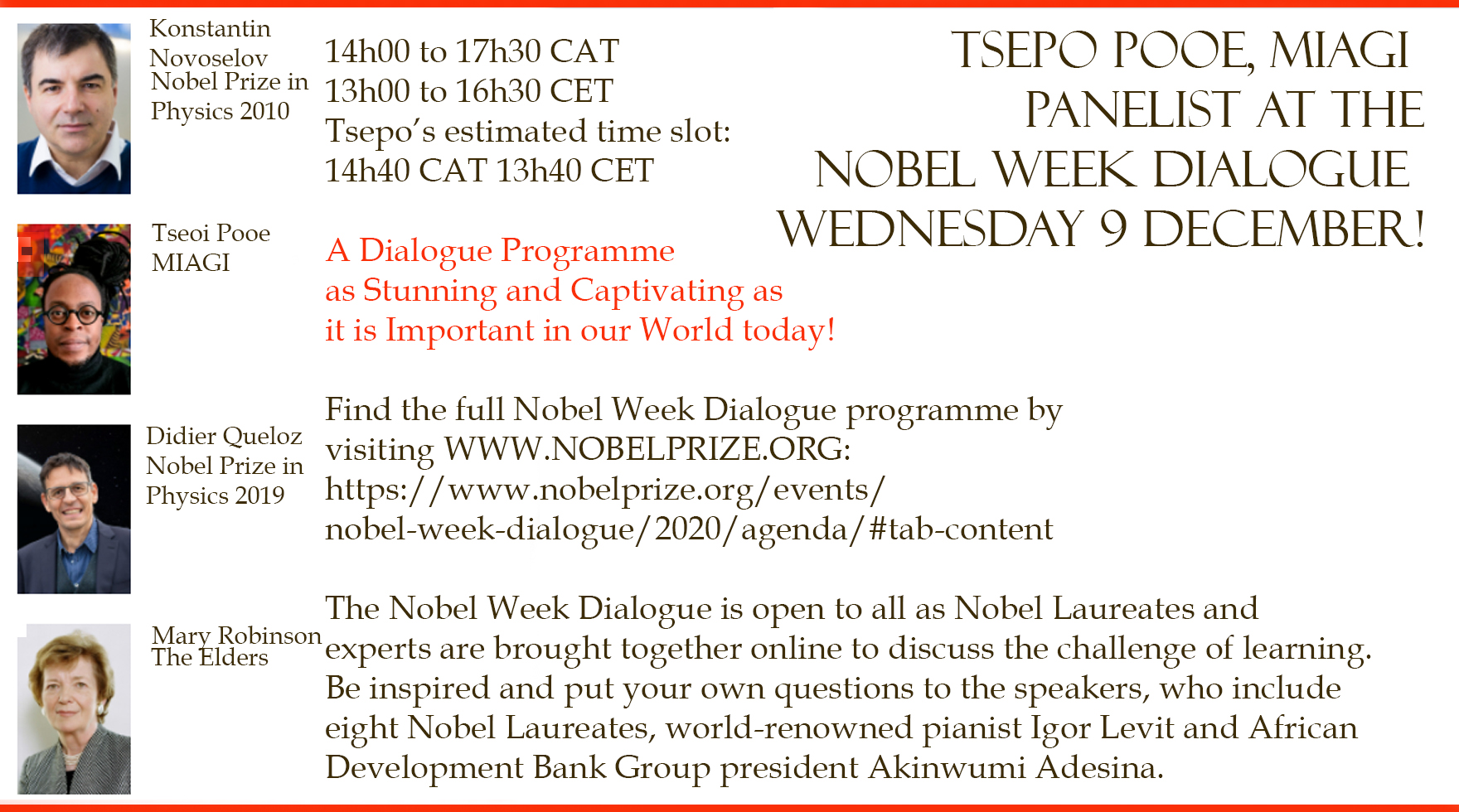 "Finishing an unfinished Symphony"
On Thursday 12 November MIAGI and the Friedrich Naumann Foundation presented a livestreamed roundtable event at the Market Theatre.
Please check out the recording from the event at our Facebook page and read more about the distinguished panelists below)!
                                                        https://www.facebook.com/MIAGI.SouthAfrica/
The MIAGI documentary film 'An unfinished Symphony' that was premiered by The Nobel Prize and National Geographic will form the outgoing point for the roundtable discussion. 
There will also be live music performances by MIAGI's young musicians.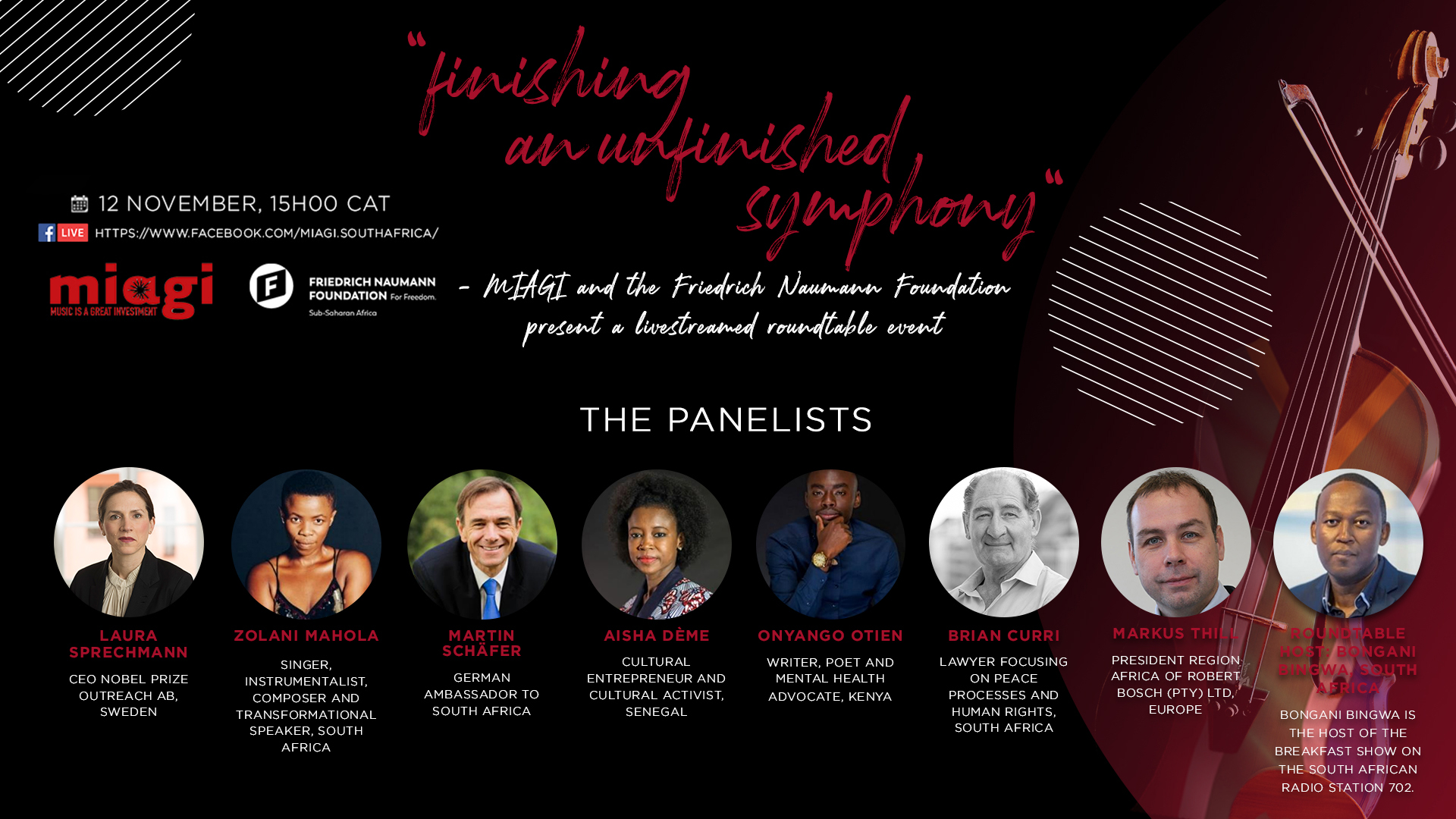 THE PANELISTS
LAURA SPRECHMANN, SWEDEN Laura Sprechmann is CEO for Nobel Prize Outreach AB, the company that aims to spread knowledge and raise interest in the Nobel Prize-awarded achievements to a global audience, through digital media and international events. Previously, Laura has worked as a Senior Consultant in strategic communication and within the media industry as journalist. She has also experience of working as Content Manager for an e-learning company as well as a position as Media Analyst. She holds an MBA in International Management from the University of London and a BA in Communications. Laura is Executive Producer of the documentary film 'An unfinished Symphony' that was world premiered in May 2020 by The Nobel Prize and National Geographic.
ZOLANI MAHOLA, SOUTH AFRICA Zolani Mahola is a South African singer, songwriter, guitarist, actress, film score composer, storyteller and transformational speaker. She has been the lead singer of the internationally acclaimed South African music group Freshlyground since 2002 to 2019. On 15 August 2019, Mahola officially announced the launch of her solo career as a musician, storyteller and public speaker.
BRIAN CURRIN, SOUTH AFRICA South African lawyer Brian Currin has been described internationally as a veteran of peace processes that bring civil conflicts to an end. The head of the National Directorate of Lawyers for Human Rights between 1987 and 1994, Currin played a key role in establishing the Truth and Reconciliation Commission in South Africa. Currin was further the lawyer who first revealed evidence of police hit squads in the late 80s and he has played a key role in the Zondo Commission's state capture investigation. He was the crucial link between the whistle-blowers in possession of the Gupta family's leaked emails and getting these into the public domain by using his networks in civil society and the wider world of human rights to help get the whistle-blower's stories told and turned into documents of law – affidavits. His work in the wider field of human rights law saw Currin establish a global practice in peacebuilding. He has worked in Northern Ireland, Spain's Basque Country and most recently in Colombia. In Germany on a recent fellowship in Berlin, Currin studied trends in private-public sector relationship and how they reflect political order or political decay.
MARTIN SCHÄFER, GERMANY Martin Schäfer, German Ambassador to South Africa holds numerous Degrees, in Economics, Social Sciences, Political Sciences, History, Sociology and Administration. He also holds a master's degree in Social Sciences from the University of Montpellier and a PhD in Law from the University of Münster. Ambassador Schäfer has held various positions at the German Foreign office and been positioned among others in Kiev and Santiago de Chile before in October 2017 being appointed German Ambassador to South Africa, Lesotho and eSwatini.
AISHA DEME, SENEGAL Aisha Dème a Senegalese cultural entrepreneur and a strong voice of cultural activism in Africa. Aisha is the out-going Chairwoman and founding board member of Music In Africa, a foundation that raised $2M+ and worked across 40 countries to promote and support the African music industry.  Previously, she co-founded and led AgenDakar.com in 2009, the first online portal dedicated to promoting and showcasing the Senegalese art and music scene. She is now focused Siriworo, her most recent venture, structuring art and culture projects (festivals, visual art exhibitions, poetry/...etc) as well as incubating and accelerating an emerging wave of outstanding cultural entrepreneurs in Africa with the project PEYTEL.
ONYANGO OTIENO, KENYA Onyango Otieno is a Mental Health Advocate, writer and poet as well as the Co-Founder of Fatuma's Voice Foundation, an African educational forum based in Kenya that uses art and dialogue to encourage expression and create unity in diversity. Fatuma's Voice drives for community-based social change by encouraging creative expression and sparking conversations about social issues. The forum is run by local youth to encourage expression within their communities using tools like art, poetry and music, media, debate, and theatre.  
MARKUS THILL, EUROPE Since mid-2014, Dr. Thill is responsible for Bosch's business in Africa, reporting directly to Bosch Group management. Prior to co-founding Bosch's global venture arm as managing director in 2007, he worked as Vice President of Bosch's global corporate strategy department. Before joining Bosch, Markus was a senior manager in leading strategy consulting firms, heading and implementing projects on strategic and operational issues as well as M&A around the globe. His clients encompassed Global Fortune 500, mid-caps, and start-up companies as well as private equity and venture capital firms. Markus holds university degrees in mathematics and physics, including a doctorate ("summa cum laude") from Université de Paris (France). He is fluent in English, German, and French, and has a good working knowledge of several other languages.
ABOUT THE FRIEDRICH NAUMANN FOUNDATION The Friedrich Naumann Foundation for Freedom is a foundation in the Federal Republic of Germany and 60 countries world-wide devoted to the promotion of liberal principles and to political education. The goal of the foundation is to advance the principles of freedom and dignity for all people in all areas of society, both in Germany and abroad.
ROUNDTABLE HOST: BONGANI BINGWA, SOUTH AFRICA

Bongani Bingwa is the host of the Breakfast show on the South African radio station 702. Before this, for the last ten years, he has been a presenter and journalist for South Africa's longest running investigative television programme Carte Blanche. He has interviewed thought leaders, senior politicians, and captains of industry, authors, celebrities and high-flyers on the global stage. Not a few wrongdoers have come under the glare of his probing questioning for the show. He studied politics and holds a Bachelor of Arts degree from UNISA.
22 May 2020 - The Nobel Prize and National Geographic premiering documentary featuring MIAGI Orchestra in the context of the legacy of Nelson Mandela
Bundesjugendorchester - the National Youth Orchestra of Germany visiting South Africa 8 to 16 August 2019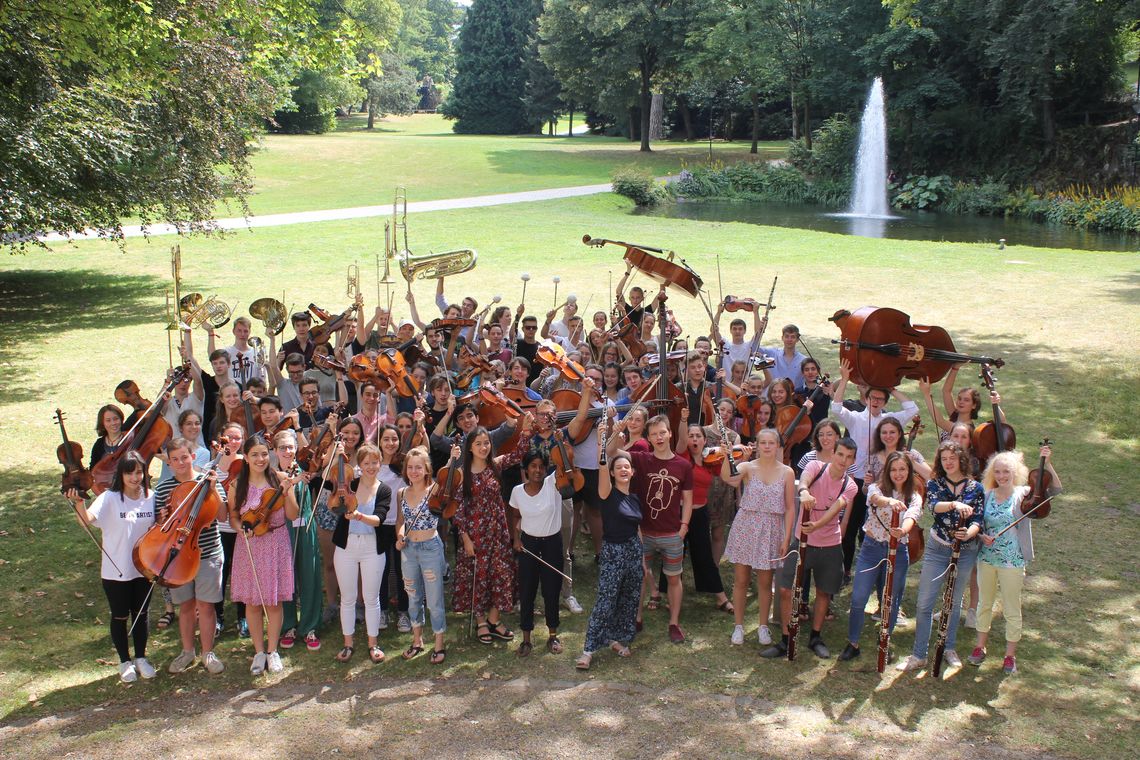 Photo - Bundesjugendorchester: Annette Boerger
We are proud to announce that MIAGI's wonderful partner since 10 years, the National Youth Orchestra of Germany, 'Bundesjugendorchester' will be touring South Africa from 8 to 16 August 2019. This 90 member orchestra comprises the most talented young musicians in Germany, and  is world renowned for its  artistic excellence and has long become one of Germany's finest representatives.
The tour is coordinated by MIAGI,  and the major events are presented in collaboration with the KZN Philharmonic, Johannesburg Philharmonic, Cape Town Philharmonic Orchestras and the Faculty for the Arts of the University of Pretoria. Apart from participating in community events, interacting with their South African counterparts, they will be performing in three major cities.
Durban City Hall, 9 August 16h00 - Find tickets here/Computicket
Aula of the University of Pretoria 13 August 20h00 (please see poster below) - Find tickets here/Computicket
Cape Town City Hall, 15 August 20h00 - Link to the Cape Town Philharmonic Orchestra's information on the event
Conductor: Alexander Shelley, Principal Associate Conductor of the Royal Philharmonic Orchestra in London and the Orchestra of the National Arts Centre in Canada
Soloist, award winning soulful singer, songwriter Msaki
Programme:
William Walton: Johannesburg Festival Overture
Hendrik Hofmeyr: Three Sangoma Songs (soloist: Msaki)
George Gershwin: Porgy & Bess, Symphonic Picture for Orchestra (arr. Robert Russel Bennet)
Johannes Brahms: Symphony N. 2 in D Major, Op. 73
* Tickets: Computicket
Other events - the National Youth Orchestra of Germany visiting South Africa 8 to 16 August 2019
9 August 10h00 - Workshop with the Kwa-Zulu Natal Philharmonic Youth Orchestra at Durban City Hall
9 August 16h00 - Morris Isaacson Centre for Music (MICM) in Soweto - Women's Day Concert (two vocal ensembles, Germany's Sjaella and South Africa's Just 6 that will later in the year be performing in Germany with the Bundesjugendorchester. In Soweto they will be joined by Wits Choir). Please see poster below.
11 August 15h00 - University of Pretoria, Conductors' Workshop with Alexander Shelley and the University of Pretoria conducting students.
12 August 16h00 - Bundesjugendorchester in Concert at Morris Isaacson Centre for Music in Soweto.
13 August 10h00 - HeronBridge College - Robert Maxym gives a lecture for the Bundesjugendorchester members on a monumental work in which creation process he actively took part. Topic: Mzilikazi Khumalo's epic oratorio USHAKA, KASENZANGAKHONA .
14 August 18h00 - Community Concert at Spier Wine Estate organised by the Living Arts Foundation.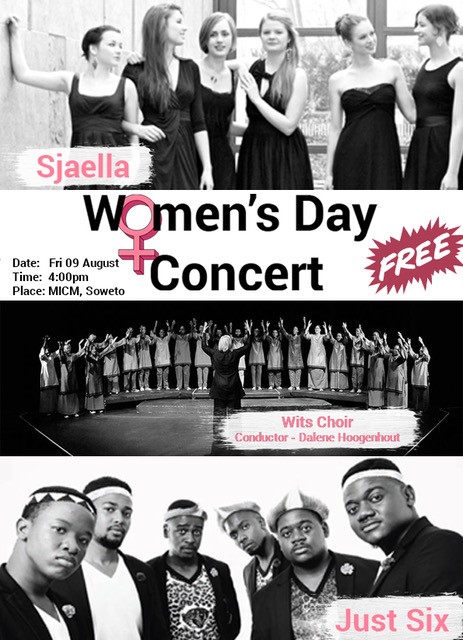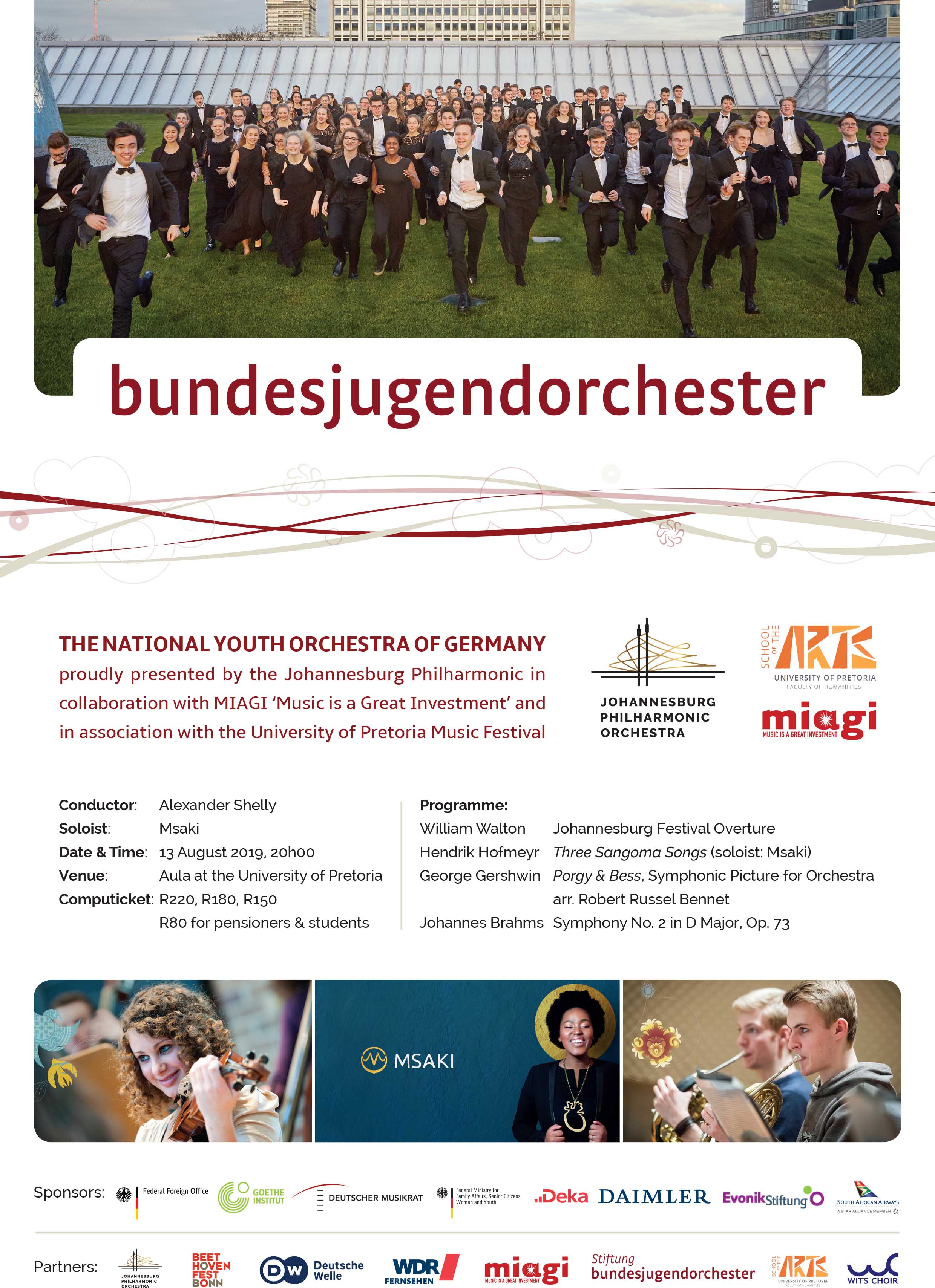 Linder Auditorium - Benefit Concert
Date: 20-MARCH-2019 
Time: 20:00
Stunning young violin virtuoso Jiafeng Chen, will be performing for our Arco distance learning programme! Thank you Jiafeng Chen!
The Arco programme is run in collaboration with Royal Birmingham Conservatoire at recently renamed Cape Gate MIAGI Centre for Music, now: Morris Isaacson Centre for Music.
Jiafeng is a prize winner at the Sibelius, Wieniawski, Indianapolis, Menuhin and Queen Elisabeth International Violin Competitions.
The Linder Auditorium Recital Programme:
Brahms: Sonata for Violin and Piano No.3
Beethoven: Sonata for Violin and Piano No.1
Korngold: Much Ado about Nothing Suite
Jiafeng Chen: Violin
Pianist: TBC
Tickets R345 - R550 at Webtickets:
VIP Admission includes a Pre-Recital Cocktail Party from 6pm.
Jiafeng studied with Jan Repko, Cho-Liang Lin and Ronald Copes at London's Royal College of Music and the Juilliard, New York.
His solo engagements have included performances with the Shanghai Symphony Orchestra, Hallé Orchestra, Finnish Radio Symphony Orchestra, Helsinki Philharmonic Orchestra, the Philharmonia Orchestra and the National Orchestra of Belgium.
Follow the Youtube link to listen to Jiafeng's performance of Sibelius' violin concerto with the Finnish Radio Symphony Orchestra at the International Sibelius Violin Competition Finals.
MIAGI Orchestra performed at ZK Matthews Hall in Pretoria on 30 November 2018. The event was filmed for a Documentary on MIAGI / MIAGI Orchestra that will be released internationally at renowned film festivals towards middle of 2019.
See an excerpt from the concert here. MIAGI Orchestra performing Beethoven's Egmont Overture, Conductor: Daniel Spaw.
Special recognition of MIAGI's work - MIAGI was awarded the European Cultural Award, a prestigious international award that goes to especially worthy individuals and organisations from many walks of life, awarded by the Foundation PRO EUROPA:
At a festive award ceremony, on 3 August at the Konzerthaus in Berlin, MIAGI Youth Orchestra was awared the prestigious Yoeurope-award (Your Europe) of the European Cultural Foundation PRO EUROPA.
Excerpt from PRO EUROPA Foundations motivational text: This award honours the outstanding youth orchestra, MIAGI Youth Orchestra, from 'Music is a great Investment', MIAGI a not-for-profit organisation founded in 2001. The organisation and its young musicians stand among others for an inspiring support of the today more then necessary dialogue between people of different cultures, colors and religions as well as between Africa and Europe.
Earlier PRO EUROPA award recipients have included: Astrid Lindgren, Daniel Barenboim, Berliner Philharmoniker, Pierre Boulez, Jean-Claude Juncker, Baltic Sea Youth Philharmonic, Placido Domingo, Mary Robinson and The St Petersburg Dialogue represented by Michail Gorbatchov and Lothar de Maiziere.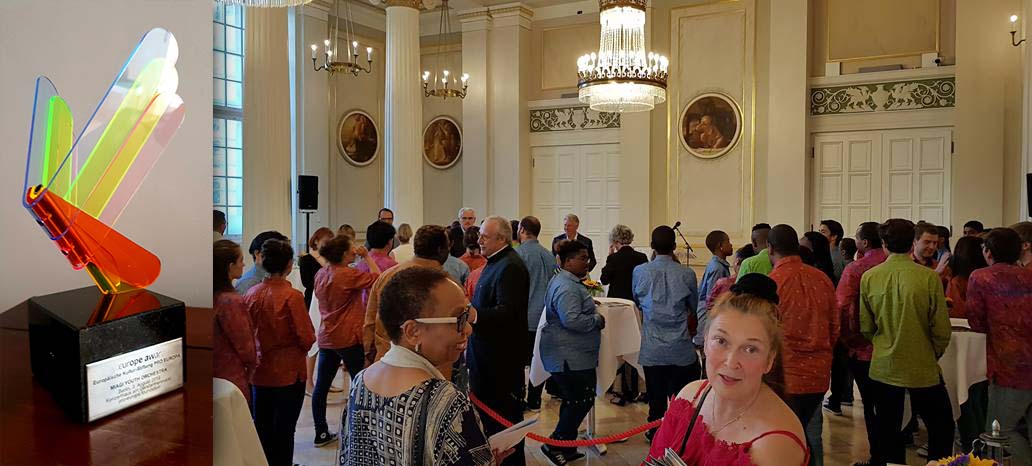 Left: The PRO EUROPA Yoeurope-award Right: MIAGI and representatives from the PRO EUROPA Foundation socializing in the Beethoven Hall after the award ceremony
MIAGI Youth Orchestra celebrated Nelson Mandela Centenary 2018 'Be the Legacy' 6 July to 3 August - the tour was a phenomenal success!
MIAGI Youth Orchestra undertook its fifth European tour with 16 major concerts in 6 European countries. The orchestra 'with a difference' with members of diverse backgrounds, playing with a warmth of spirit that is infectious and inspiring, promises a great future for South Africa and the world.
Prominent Speakers at the events and venues in the context of the MIAGI Youth Orchestra Nelson Mandela Centenary celebration concerts:
President of the European Parliament, Antonio Tajani
Foreign Minister of the Federal Republic of Germany, Heiko Maas
Minister of Culture of the Federal Republic of Germany, Kultursenator Klaus Lederer
Ambassador of South Africa to the Kingdom of Belgium, the Grand Duchy of Luxenbourg and the Mission to the European Union, Baso Sangqu
Ambassador of South Africa to the Federal Republic of Germany, Phumelele Stone Sizani
Consul General of South Africa in Munich, Georgoe Monyemangene
Special Advisor to President Ramaphosa, Khulu Mbatha
MIAGI Goodwill Ambassador, Ambassador Nozipho January-Bardill
Prof. Dr.  h. c. mult. Reinhold Wuerth of the Wuerth Group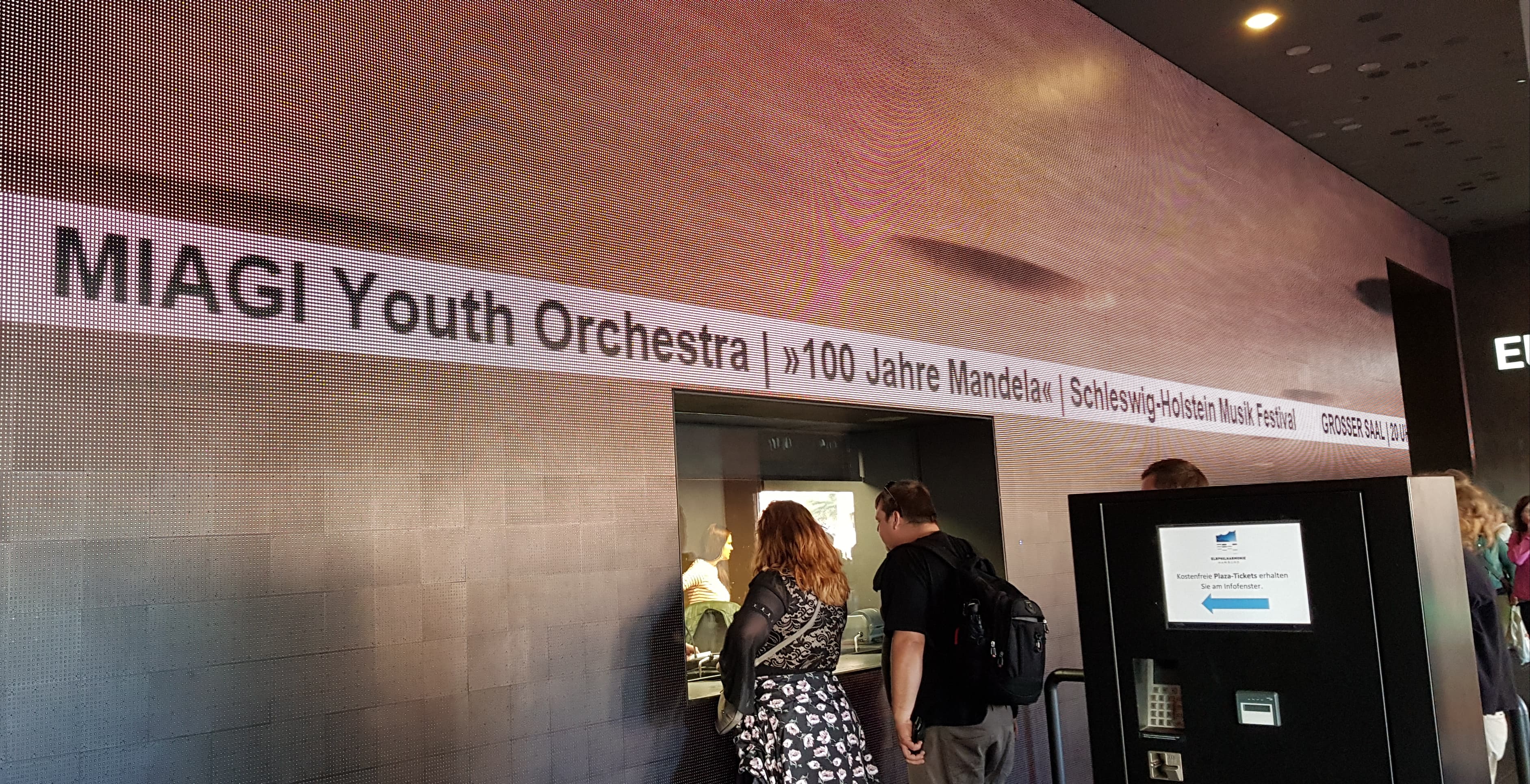 Audience picking up their ordered tickets at the box office of the stunning Elbphilharmonie concert hall, Hamburg, Germany - MIAGI Youth Orchestra 100 Years Mandela / Schleswig-Holstein Music Festival
The tour took us to following festivals and venues: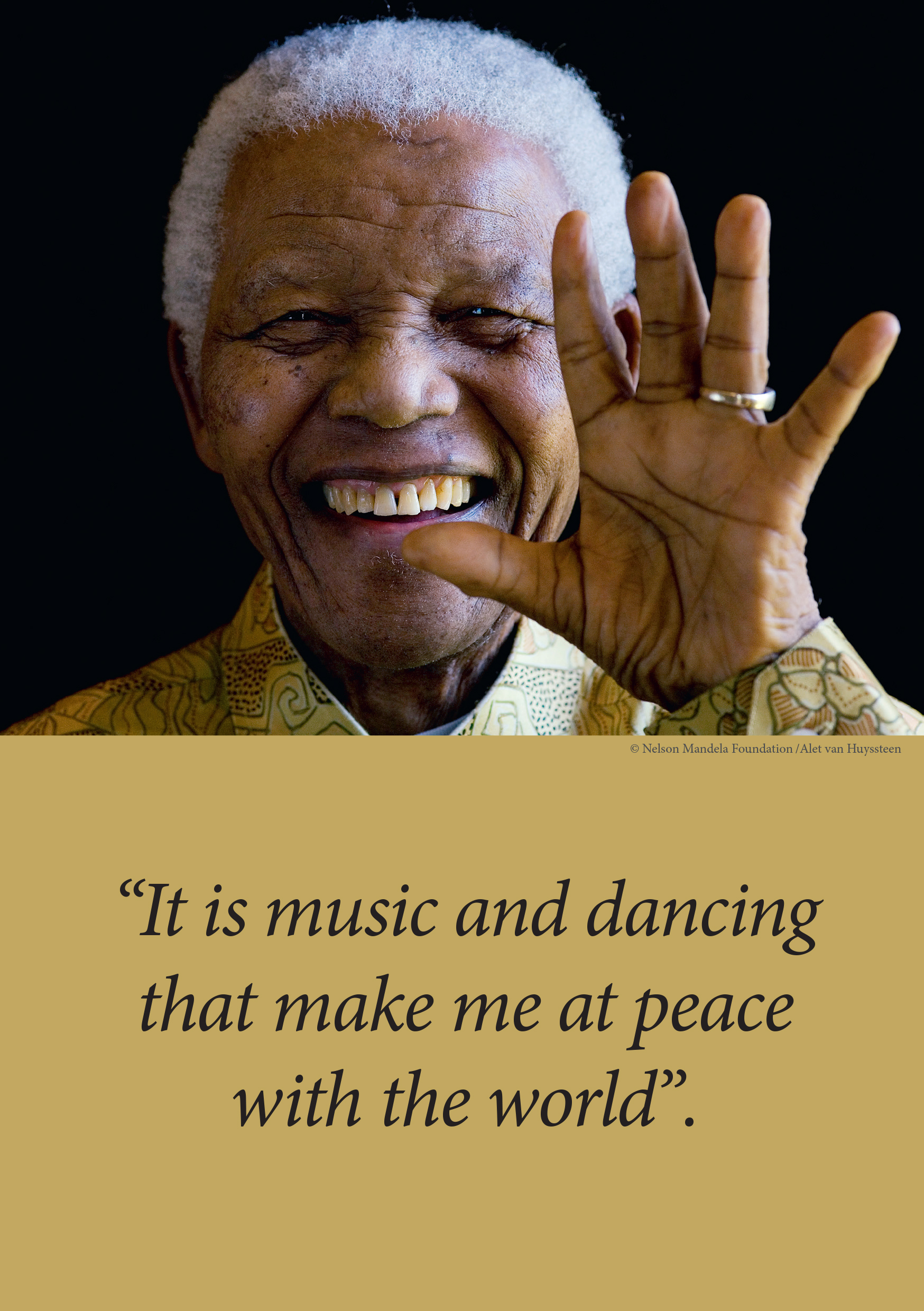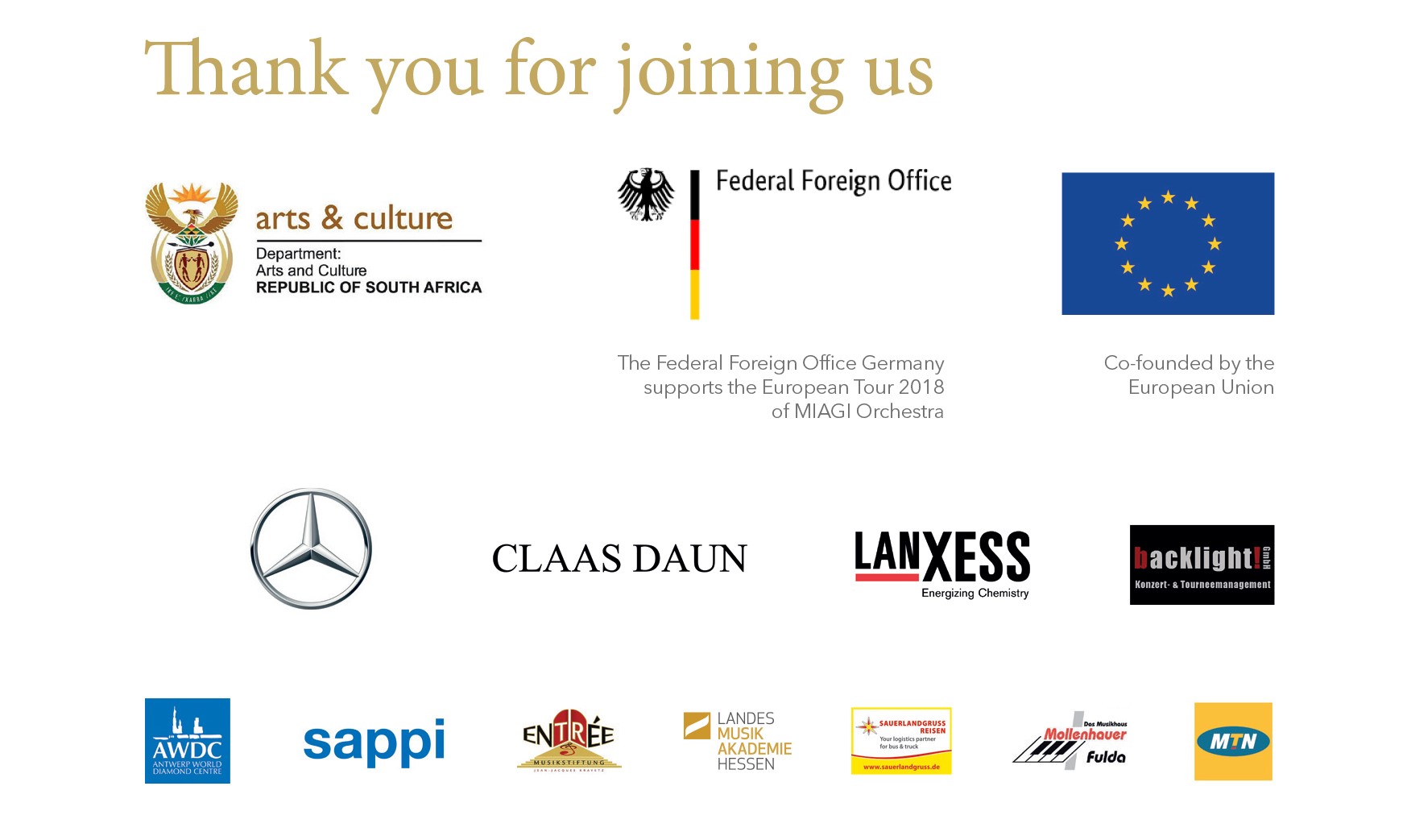 MIAGI had the privilege and joy to spend a hugely informative and inspirational day, hosted by the Swedish Royal Family at The Royal Palace in Stockholm, Sweden, where the 10th Global Child Forum 2018 was held.
Global Child Forum was founded by the Swedish Royal family and over 300 participants from around the world gathered to discuss child rights issues. Participants represented global companies, financial institutions, civil society, the UN, academia and government. 
Wednesday March 28, 2018 @ 16h00
Cape Gate MIAGI Centre for Music, 5635 Mtembu Street
(behind the Morris Isaacson High School in Soweto)
The Public Arco Festival Concert at CMCM with Performances by Arco Students and Teachers
Our March Arco Festival took place from 24 to 29 March 2018 - follow this link to find out more about our Arco programme in collaboration with the Royal Birmingham Conservatoir in the UK.

Thursday March 1, 2018 
Renowned choir and choral conductor from Stockholm
visited our music centre!
Interactive workshop / concert with conductor Bengt Ollen and members of the youthful choir from Stockholms Musikgymnasium (a school specializing in offering the students high quality music education, in addition to general school subjects)...and... with the Morris Isaacson High School Choir also joining in, to perform for our very special guests and sing Shosholoza together with them - Thank you to all performers and participants and a very special thank you to everybody who helped with the arrangements!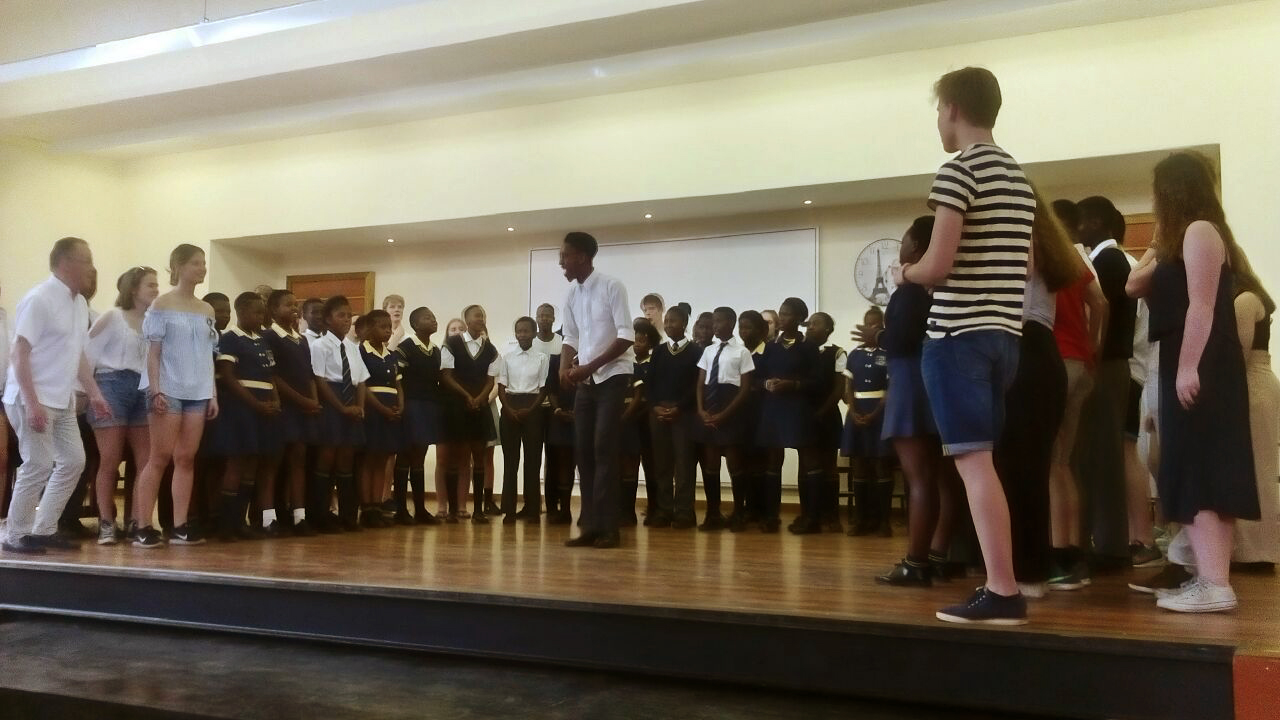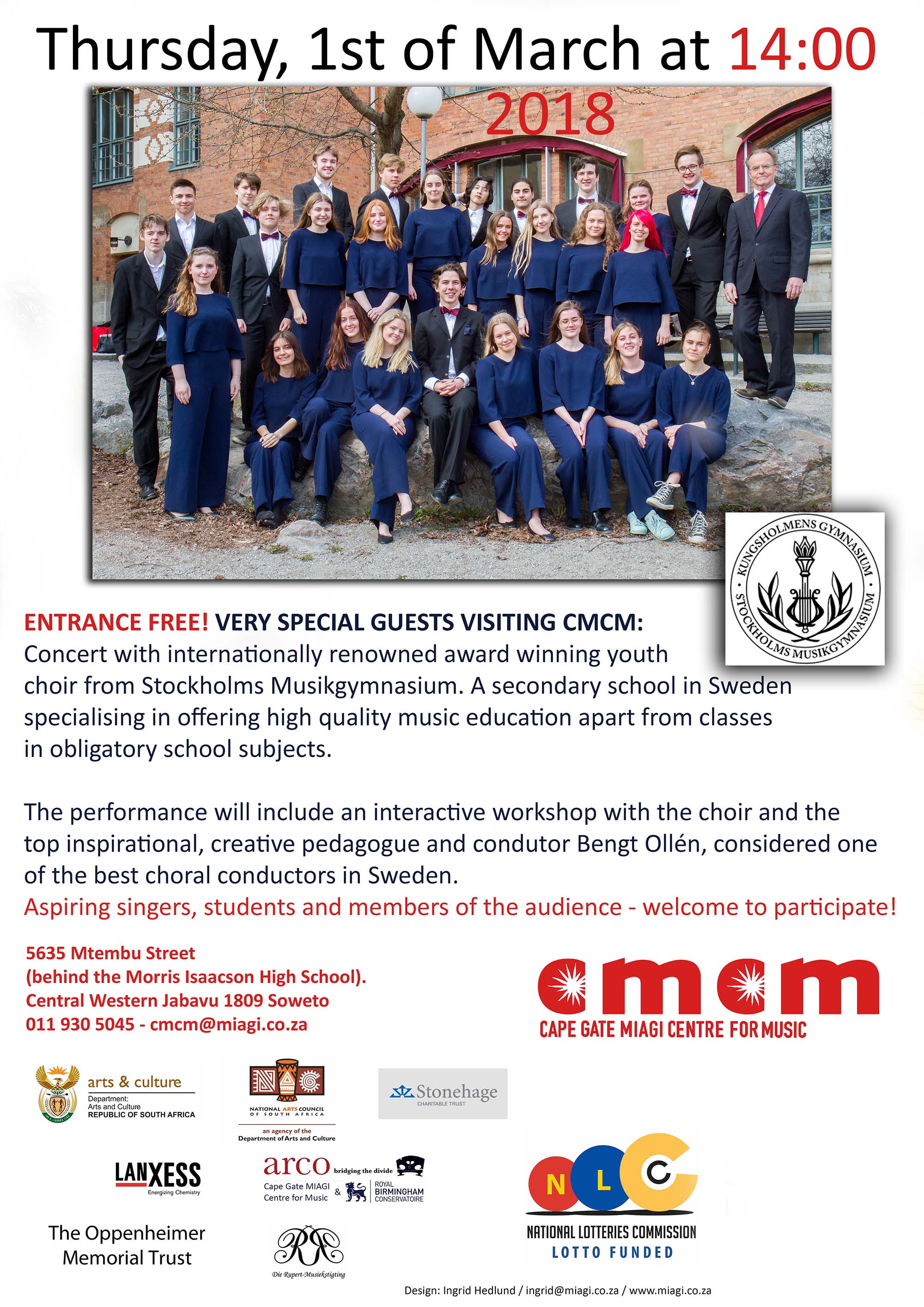 Soweto Jazz Explosion took place on Sunday 4th February 2018 at Cape Gate MIAGI Centre for Music behind the Morris Isaacson High School - 5635 Mtembu Street, Jabavu, Soweto. 
With Steve Dyer, Tshepo Tsotetsi, Sibusiso Sibanyoni, Themba Mokoena, Prince Lengoasa, Khaya Mahlangu, Mongezi Lungsta, Christine Msibi, Sibusiso Lerole, Bhekinkosi Hlatshwayo among others.
Mantswe a Marabi (Voices of Marabi) + a celebration of the feel good South Africa marabi sound by Steve Dyer. Marabi's roots date back to the tonwship shebeens of the 1920s and 1930s and is a catchy, highly danceable sound that is influenced by American jazz, ragitme and bles. Internationally renowned szxophonist and flautist Steve Dyer lead a six-piece band at this Marabi tribute. The show was opened by Jack Lerole's Shukuma, a Kwela music band formed in 1994 under the leadership of Big Voice Jack Lerole in 1994 it now features Big Voice Jack Junior on pennywhistle (text by Soweto Arts). Big Voice Jack Junior teaches pennywhistle and directs the pennywhistle ensembles at our music centre.
Below the photo please watch the video about the event with music and an interview featuring Steve Dyer, Prince Lengoasa and Friends on Morning Live!